Reviewed by: atreqdoc  on:

2022/7/30 17:47:01

I always enjoyed eating my shrimp lomein noodles, this is the first it tasted as if it was cook in dirty water. I advised the waitress the noodles taste bad and she kept asking what was wrong, and again it has a bad taste and invited her to taste it. I paid for the food and left it there, was very disappointed as I paid for something I could not eat.

Reviewed by: salibanabas  on:

2022/10/7 6:04:32

Hello My name is Derek Allard, I am having my Birthday party in November and I want it to be held at your venue on the 3rd of Nov, with 30 guests invited, please answer the following question below; 1. Do you accept credit cards? 2. Can you work with our official band performing for the event regarding payment to them? Await your quick response. Regards Derrek Allard Electrical Engineer

Reviewed by: ebowie  on:

2022/1/20 8:32:08

I stopped by your restaurant yesterday to personally introduce myself and drop off my business card. My name is Ebony Bowie and I am with TDECU Insurance Agency. The purpose for my email is we would like the opportunity to give your business a quote for insurance when they come up for renewal. When do your current policies renew? TDECU Insurance Agency is local and we have access to several insurance carriers that specialize in restaurants and we are able to shop around on your behalf to offer you a better rate and coverage. Best regards, Ebony B.

Reviewed by: tracypena03  on:

2021/8/12 17:46:34

Please Take my credit card information of your website!

Reviewed by: cmstinson  on:

2021/6/3 14:52:14

The on line ordering is broken. Every time I select an order like Pepper Steak the site adds an extra item that I do not want and there is no obvious way to remove the item so the charge becomes $3.50 or so more that I should pay. PLEASE CORRECT this.

Reviewed by: sam.birger  on:

2021/6/25 21:53:36

"Hi Hana Japanese and Chinese Cuisine team, I thought I'd reach out because I came across your website and restaurant on a delivery marketplace. I help boost delivery sales by up to 40% with no work required. If we are unable to grow your business within two months, you can cancel before every paying! No Contracts or commitments. We are here to help! Looking forward to chatting. Thanks! - Lisa from Sauce"

Reviewed by: aiden.perez0607  on:

2021/5/9 12:37:55

Hello! My name is Aiden Perez and I was wondering if you guys are hiring right now. Here is the link to my resume. Thank you! https://docs.google.com/document/d/e/2PACX-1vQyhuteXcEbnH20GSbAZ5zZVaCBHUOQ58BPP2LsUzWANUd1hVarnfnV1-tREcto0-ibwBfoVbhSi1-w/pub

Reviewed by: lisagmarek  on:

2020/8/9 12:54:04

You were supposed to call me back,I gave you my phone number a week ago.281 437-8093 I'm living here 40 years, a few blocks from your restaurant. You are the worst business people I have dealt with in my 80 years. The wonton soup was like dishwater no bok choy or little pork hardly nothing in it $6.00 I asked for the veggies with my steamed chicken WELL done,I have no teeth they were hard. Only soy sauce no other sauces. we ordered egg rolls none. the 2 other dinners not very fresh either. If you do not take care of this I will write a terrible review on your website. Shame on you for treating the customers so badly.

Reviewed by: emmastephens0292  on:

2020/7/16 10:46:42

Gated and code today is #5221. Order placed approximately 40 minutes ago. Thanks

Reviewed by: clairewinter  on:

2020/6/2 9:08:12

Hello, My name is Claire Winter with the Verification of Employment team at Quicken Loans. I am writing to follow up on an employment verification form we had previously sent over via fax to 832-539-6982. If someone could please get in contact with me in regards to this verification, that would be great! Your prompt attention to this matter is greatly appreciated. Thank you and have a great day!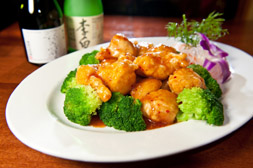 Address:
6210 State Hwy 6 S. Suite B,
 Missouri City, TX 77459-3803
Phone:
832-539-6164
Fax:
832-539-6982
Website:
http://hanamissouricity.com