Reviewed by: lisagmarek  on:

2020/8/9 12:54:04

You were supposed to call me back,I gave you my phone number a week ago.281 437-8093 I'm living here 40 years, a few blocks from your restaurant. You are the worst business people I have dealt with in my 80 years. The wonton soup was like dishwater no bok choy or little pork hardly nothing in it $6.00 I asked for the veggies with my steamed chicken WELL done,I have no teeth they were hard. Only soy sauce no other sauces. we ordered egg rolls none. the 2 other dinners not very fresh either. If you do not take care of this I will write a terrible review on your website. Shame on you for treating the customers so badly.

Reviewed by: emmastephens0292  on:

2020/7/16 10:46:42

Gated and code today is #5221. Order placed approximately 40 minutes ago. Thanks

Reviewed by: clairewinter  on:

2020/6/2 9:08:12

Hello, My name is Claire Winter with the Verification of Employment team at Quicken Loans. I am writing to follow up on an employment verification form we had previously sent over via fax to 832-539-6982. If someone could please get in contact with me in regards to this verification, that would be great! Your prompt attention to this matter is greatly appreciated. Thank you and have a great day!

Reviewed by: ginger6283  on:

2020/3/7 7:23:20

The beef is always too tough to chew so we have been ordering chicken, Two weeks ago I got terryaki chicken and some of the pieces were the strangest texture, A fork wouldn't cut the pieces and a knife wouldn't cut. They were like plastic. We won't eat here again.

Reviewed by: marci.breaux  on:

2020/3/20 16:20:33

Are you taking curbside orders?

Reviewed by: leslie  on:

2020/10/22 3:55:09

Hi, I found your website from a listing directory and observed that despite having a good design, your website still needs the best search engine optimization practice to get higher rankings on Google. I was wondering if you would be interested in optimizing your website to increase organic traffic and sales. All of our practices are "White Hat Techniques" and we strictly adhere to Google Webmasters Guidelines to promote our clients' websites online. If you are interested, then I can send you our SEO Pricing, Latest Results, and procedure. Warm Regards Leslie Smith

Reviewed by: pfrede  on:

2019/9/3 13:56:52

Good Afternoon, I wanted to reach out as I have a recently vacated 2,500 SF end cap second-generation restaurant space for lease in our retail center at FM-1463 & Cinco Ranch Blvd. The retail center is positioned at the main entrance to Cinco Ranch as well as the main entrance to Cross Creek Ranch. Both are Houston's top selling communities with average household incomes exceeding $140k. There is great population density and strong projected growth in this area. Across the street is a strong-performing HEB while Katy ISD's newest high school and junior high (4,400+ students combined) is 3 minutes away. This area of retail and restaurants is centrally located to 150,000 people who live and work in the area. The space looks great and minimal build-out is needed. I can send a flyer of this property. It would be great to get Hana Japanese & Chinese Cuisine open in this market. Thanks, Parker Frede | New Regional Planning, Inc.

Reviewed by: oliviariggs.smb  on:

2019/7/10 3:27:59

"Hi We are interested to increase traffic to your website. Please get back to us in order to discuss the possibility in further detail. Please mention your phone number and suitable time to talk. Thanks"

Reviewed by: sherlynwiley.mkt  on:

2019/1/23 0:36:30

"Hello, We are interested to increase traffic to your website, please get back to us in order to discuss the possibility in further detail.?Please mention your phone number and suitable time to talk. Warm Wishes"

Reviewed by: brisharon  on:

2018/12/5 13:34:04

We want to order for delivery tonight. What is in the Chicken With Vegetables?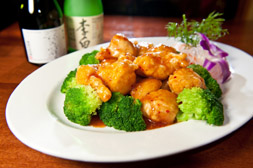 Address:
6210 State Hwy 6 S. Suite B,
 Missouri City, TX 77459-3803
Phone:
832-539-6164
Fax:
832-539-6982
Website:
http://hanamissouricity.com